A many gastro stories are being told these days. One is missing and it begins, well, on Valentine's Day…
Written by Mario Münster
In mid February – in fact on Valentine's Day – I had what turned out to be my second to last "normal" restaurant day here in Berlin before a virus from a Chinese food market flipped gastronomy upside down. I had a friend from Warsaw in town and since we were late planning and since it was Valentine's Day we didn't manage to get any reservation at a considerable restaurant. But this is Berlin and a little play it by ear attitude to a proper gastro night never hurts. So we simply decided to play it by ear, willing to challenge our luck and ready to deal with whatever the night has to offer culinary wise. By the end of that night we had eaten and drank at five different places – from a market hall to restaurants and wine bars, from slurping oysters to devouring porcini Tiramisù, to drinking many shades carbonic maceration.
Part of that night's magic was that it was one of those nights during which you meet familiar faces at each of the places you visit: High Fives and hugs with staff and owners, hugs with friends and folks from the community who accidentally happened to eat or drink at the places we had chosen so randomly.
During this seven hours journey of pure joy we ran into C. at two different places, a guy who works as a sommelier here in town. Being both not good in memorizing names we used to call each other by the name "Beef Tongue" every time we accidentally met after our first encounter late last year. Why "Beef Tongue"? Well, we first met at some sort of pop-up food thing at a wine bar and ended up at the same table hosted by a mutual friend. C. had just ordered a beef tongue sandwich. Since we both never had beef tongue before, after he took a healthy bite from his sandwich he passed it over encouraging me to have a bite from this juicy something. This was heaven. Yes, the sandwich for sure. But even more the setting, the encounter, the complicity of two strangers losing the remaining parts of our culinary virginity over glasses of natural wine, the candle light reflecting from the oil and sauce that dripped from our fingers. It was the kind of magic that happened back when people who run bars and restaurants could do what they originally wanted to do, the reason why they decided to work 80 hours a week, the idea that pushed them to the crazy decision to live a professional life on margins as thin as vermicelli : Bringing people together over food.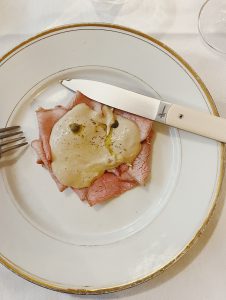 So far, the magic of great hospitality survived the flip-flopping millennial staff with it's lack of sense for commitment and dedication, it managed to deal with the wave of food bloggers turned wannabe taste makers who never chopped a single onion in a professional kitchen, and it shrugged of the Instagram ladies who shared snapshots of dishes every Italian teenager has a better understanding of than they do. Great hospitality was resilient to all these challenges. It took a virus to rip out gastronomy's heart.  Crash, boom, bang.
As much as restaurants are reinventing themselves theses days, as much as they are creative and passionate in offering their services in the most inspiring ways, as much as they use the power of community to support each other… nothing can replace the emotional aspects of sitting at a table inside a lively restaurant. Nothing can replace that distinct soundscape of chatter, music, and kitchen noise. Nothing can replace the chat with the somm, the hug with the owner, the cheerful waving to the chefs, the brief exchange about that heaven like chocolate mouse with the table next to you. Nothing can replace the encounters with strangers you accidentally meet on a communal table and that eventually become your close friends over time. I mean, simply put: Can you imagine having a bite from a stranger's sandwich at a packed bar, right now? Or even in  six months from now?
This is what makes me the saddest. Of course I feel with all the owners and staff of small restaurants who struggle financially – many of them being friends – and this too makes me sad or rather really concerned. But we all together lost what used to be the heart and soul of gastronomy – for now. And no loan, no government support program, no VAT reduction, no fancy take-out thing can replace this: The human factor, the interaction, the joy, the slap on the back, the carnival of culinary happiness.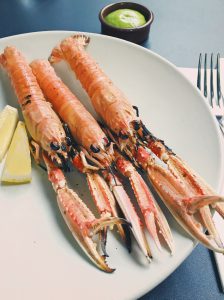 I can tell the story of my life so far simply by arranging scenes from bars and restaurants in a chronological order for a period of four decades. I'd say I was hardly four weeks old when my parents first took me with them to Gianni. The Italian immigrant who had a pizza place in the village next to the even smaller village I grew up. As a child the weekends were dedicated to winery visits with the family at one of the many wineries that also offer snacks at Germany's breathtakingly beautiful Rheingau valley. I didn't knew much about Riesling and botrytis back then. But I loved how everyone at the table was happy. I loved the wine makers' big smiles when they came to the table refilling the grown up's wine glasses straight from unlabeled 1 liter bottles filled with a juice I only later learned to love, and only later I was reflected enough to identify this juice as the main reason for my father's early death in 2003 – living close to Riesling was a bad strategy for an alcohol addict. In my mid teens, I had pizza Fridays with a group of four friends. We met in the evening walked the two kilometers through the forest to the next village and had pizza before we walked back in the dark. What followed was "Schnitzel Tuesday" – this time with an even bigger group of friends – at a pretty rustic restaurant that offered all kinds of crazy Schnitzel creations for 9 Deutsch Mark (folks, that's 4.50 EURs) every Tuesday. Unforgettable a creation they called "Schnitzel Amsterdam" – a Schnitzel topped with Hollandaise and cheese. Fun fact: Carmello, the owner of Schnitzel paradise was from Sicily. Once I moved to Berlin in 2000, once I started traveling in an more intense way in the early 2000s I started adding many new stories to this book of joy that I'm now cherishing as a blessing and that sits on the imaginary book shelve of my story written so far, next to the book that tells the soundtrack of my life from the Beach Boys to Interpol.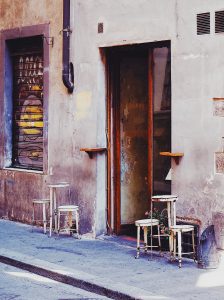 What I'm trying to tell you is: As much as I love food, as much as I have memories of crazy meals and breathtaking wines, my love for gastronomy is based on the social factor of it. All of my life restaurants and bars have been my second home. A world in which I celebrated, mourned, meditated, fell in and out of love, cried, argued, sang, and laughed. And this is why I feel that as much as this virus keeps me locked-in, it has also locked me out from a world that is so dear to me and many of my peers. The doors to gastronomy as we knew it are closed. Hospitality's heartbeat stopped. Will this universe ever re-open in a way that it can provide us with the love and soul I mentioned above? I have my doubts. For now no new chapters will be contributed to the book of gastro joy. And yes, it's heartbreaking.
Mario Münster is an independent consultant for content creation and a communications strategist. He is the host of Staff Meal Podcast – a podcast covering the politics of food –  and co-creator of Kevin Knapp Beats N Eats, a video series about food and house music. Follow on Instagram.